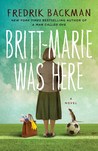 Britt-Marie Was Here
by
Fredrik Backman
My rating:
3 of 5 stars
I liked this book but didn't love it like I did
My Grandmother Asked Me To Tell You She's Sorry
and
A Man Called Ove
(my favorite of the three). I really enjoy Fredrik Backman's writing, but this one was disjointed, and I didn't eventually fall in love with the Britt Marie character like I did with the "unlikeable" characters in the other books. Still, I was touched and moved several times, and chuckled several other times.
Scrappy Little Nobody
by
Anna Kendrick
My rating:
4 of 5 stars
I like Anna Kendrik a lot and like her even more after listening to this audiobook, read by Anna herself. She's quirky and funny and her essays are mostly relatable. I say "mostly" because I obviously can't relate to presenting at the Oscars, but Anna helps you understand how that experience might be for someone brand new to it. She feels like "one of us" and I enjoyed that.
View all my reviews